Volunteering Objectives in France

On this page we explain the different projects which are either ongoing or will be started this season in 2019.
The program for 2019 is a true assortment and for sure there is something for everyone. The volunteers' program is flexible and aims to involve you in something you would either like or learn to do. You can spend your whole stay on one project or take on different tasks, the decision is yours! Whatever the task, La Giraudiere is a great place to volunteer, you can learn new skills and maybe contribute to the education of the other volunteers or interns. Whatever your age or your field you can be sure that there is something for you at La Giraudiere...
The Volunteers Program for 2019


Household Management
One of the most appreciated and most important tasks is the household manager or manageress. This volunteer is responsible for the household management of La Giraudiere of which tasks includes:
• Laying the table for breakfast and preparing of lunch
• Maintaining the of food hygiene and cooking areas
• Tidying up common areas and linen cupboards
• Daily trips to buy fresh bread
• The weekly shopping

Evening meals are a shared responsibility and each volunteer,or intern, takes their turn to cook. This way we can ensure a variety of international cuisine. Normally the person responsible for the household would prepare the rota for the coming week and be sure we have all the necessary ingredients for the person cooking each evening.



Brossac Website Local Community Project
This is an ongoing project but every year needs updating and improving. Apart from the updating of what exists also planned for 2019 is the addition of a section of "Where to Stay" This new section will provide information on Hotels, Gites, Camping, Caravaning and anything else we find which is new and where you can stay in and around Brossac. The work here involves research, photographer, writing, interviewing and then finally preparing & publishing the relative web pages. This task or project is ideal for those who wish to become immersed in village life, you can see what has been done by previous volunteers at


Brossac Village website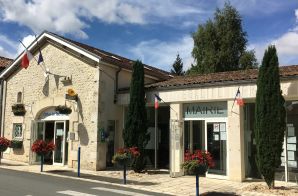 Gardening & Landscaping
We have a 2,500 square meters of park, of which a small amount is garden. The park is an ongoing project and each year a little more is done as regards planting trees and putting in pathways, but more is planned to make the park attractive and functional. The garden area needs constant attention so that we do not lose what has been done. As part of the Gardening and Park project we hope to put in place a website section about the floral that can be found at La Giraudiere. Some foundations for this project have been laid and now is time for someone with green fingers to take it forward and build upon them.




Administration, Marketing and Accounting
The day-to-day running of the administrative tasks at La Giraudiere's. Every day enquiries and applications arrive and placements have to be organised. Then there is Marketing and blogging:- La Giraudiere has a large following that likes to know what is happening. Maintenance and improvements of the website content, which is an ongoing project with its articles and photos Twitter and other social media sites which need to be updated. Could any of these be a job for you? If working with computers, or in an office / business setting is something you are interested in or willing to explore then there is a place for you!




Every spring Brossac holds the cross country run called the" Trail du Brossac" and here three volunteers help out by preparing the showers and other facilities at the stade de Brossac





Event planning and Setting up


La Giraudiere and its volunteers have always been available to the local village associations whenever needed. In the past we have helped set up the celebrations for Bastille Day (14th July), helping with the annual cross country run "the trail de Brossac" and the spring Village Fair. In addition to village events, this year La Giraudiere, via its association, will be organizing its own event and maybe more than one, presently planned is a Vide Grenier. These are open to the community and the goal is to bring The La Giraudiere project to the public's attention.



Property Maintenance, DIY and Bricolage


At La Giraudiere we have 4 apartments which consist of 10 bedrooms, 4 Shower rooms, 4 WC, kitchens and common areas all of which need constant maintenance so for those keen on DIY and property maintenance there is plenty for you to get your teeth into.


A variety of work is available including: Plumbing - Plastering - Painting - Flooring - Electrical - Fitting of cupboards and shelving - Fitting of doors - Restoration of stone work and more.






Construction & Building


The main construction goal for La Giraudiere at this time is the installation of the professional kitchen and the group dining area situated on the ground floor of the main house. Lots of work has already been carried out here and we have made use of this space when holding events. On completion there will be a professional kitchen with its auxiliary rooms such as a pantry, washing up room and food preparation room. There will also be a communal / dining room which eventually will be a common room for the volunteers/ Interns and the school trips. There are plans for a reception area which will also be used as a bar when holding social and communal events. We will also provide toilets facilities and washrooms will be accessible to people with reduced mobility.



What does England, Scotland, Puerto Rico and Australia have in common?
Answer is La Giraudiere. Four of the finest you will ever find


Chine Franco Alliance International Project
The aim of this project is to encourage Chinese volunteers to take on the challenge of volunteering at La Giraudiere. Last year,2018, we started to form links in China and as a result we had 14 different Chinese volunteers arrive from all part of China. One of the projects they started is a website in Chinese to explain La Giraudiere and encouraging Chinese volunteers to come and join us in France.
Like to help with this one?




Education & Learning
La Giraudiere is a place of learning, a place which offers cultural exchange like no other, a place where volunteers and interns from around the world can come and learn French, or English, or perhaps acquire that special something to give their CV or Résumé that bit extra, extra which is so important today. So you could help with lesson planning, marketing to universities around the globe telling them what is on offer here in France, tell them about the teachers we have and the training we provide. We need some training modules for house management, facility management, marketing, social media and more, so if you have good ideas then come along and help.






ERASMUS+ European Community projects





Erasmus+ Accredited


La Giraudiere is an accredited receiving organisation for the Erasmus Plus program a program operated by the European Commission under its

Life Long Learning

program. for further detail of what is planned for 2019 for our Erasmus volunteers and how you could help visit Erasmus 2019 Project in France